Michael Jackson's youngest child no longer goes by Blanket Jackson. He is now called Bigi. Here's an update about him.
"King of Pop" Michael Jackson's family has been all over the news lately. The late pop star's ex-wife Lisa Marie Presley passed away on Jan. 12. His daughter, Paris Jackson, attended the Los Angeles premiere of the documentary Pamela, a love story on Monday, Jan. 30. And that same day, Michael's son Prince Jackson congratulated cousin Jaafar Jackson on his role as the "Thriller" singer in the upcoming biopic Michael. But what about Michael's other son? Where is Blanket Jackson now?
For starters, the Hollywood heir has a new name now. Born Prince Michael Jackson II via surrogate in 2002 but nicknamed Blanket, the 20-year-old is now going by the name Bigi.
Where is Blanket Jackson now? He goes by Bigi, and he makes the occasional public appearance.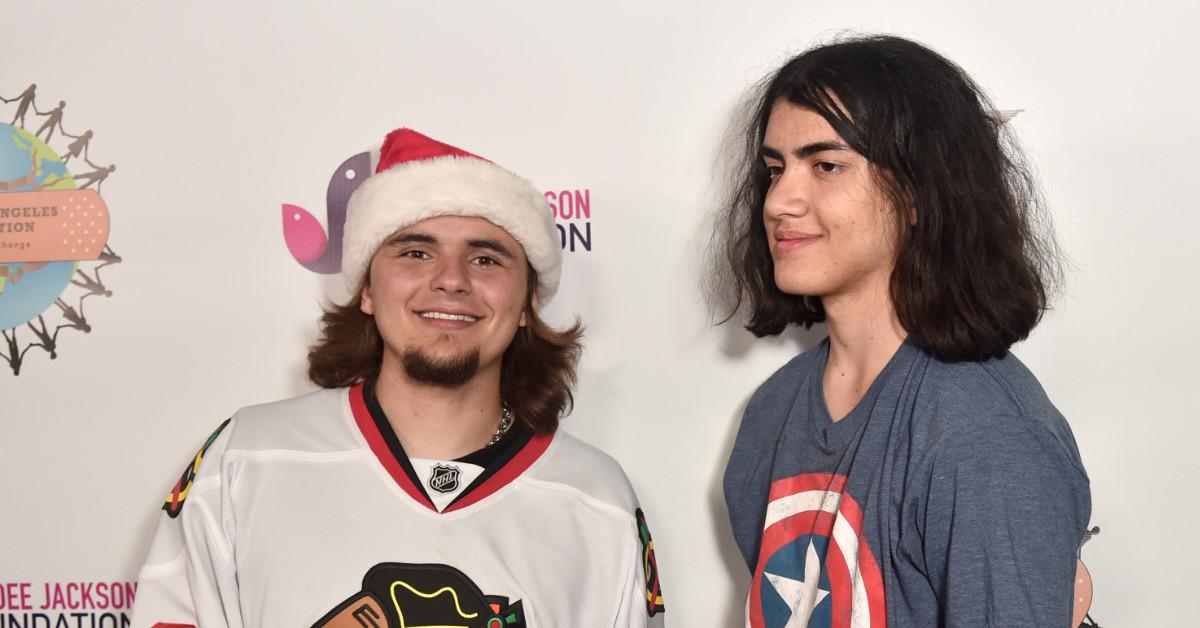 Blanket's real name is actually Prince Michael Jackson II, but he earned his unusual nickname because his face was usually obscured by a blanket in public to keep his identity a secret, per Mirror.
Despite keeping out of the public eye more than his older siblings, Bigi does pop up on TV and social media occasionally.
In October 2021, for example, he gave a short interview on Good Morning Britain as his brother, Prince, hosted a Thriller Night Halloween Party to benefit the Heal Los Angeles Foundation.
The party was held at Hayvenhurst, the Jackson family's Los Angeles estate. "There's a lot of really cool stuff here," Bigi said of Hayvenhurst. "There's a lot of history in this house and the studio here."
Bigi used the occasion to call on world leaders attending the United Nations' COP26 summit to do more to address climate change. "I do think it's important that we all know about it," he said. "And I think we have some work to do, but our generation knows how important it is."
Bigi also told Good Morning Britain that each of Michael's three kids wants to carry on what the 15-time Grammy winner was all about, which was "mak[ing] things that people hopefully enjoy but also can benefit their lives."
He's tight with his older brother, Prince, and sister, Paris.
When Bigi turned 18 in February 2020, Paris spoke highly of the newly-minted adult."My little brother is a legal adult today. What the f–k," Paris wrote in a now-offline Instagram post, per People. "I used to change his diapers. This is such a trip. Proud of the handsome, intelligent, insightful, funny, and kind young man he has become. He likes privacy, so that's all I gotta say. HBD, lil bro."
And Bigi is close to Prince, too. A source told People in 2019 that Bigi and Prince are "best friends" who "share a lot of interests, like science and sci-fi." Bigi was there to celebrate, for example, when Prince graduated from Loyola Marymount College, as seen in an Instagram post Prince shared at the time. That same year, Bigi and Prince joined forces for a movie review YouTube channel called Film Family.
Bigi bought his first house in 2020 — for a cool $2.6 million.
Bigi is living big in Los Angeles. In February 2020, Dirt reported that the then-18-year-old had paid more than $2.6 million for a home in the neighborhood of Calabasas. The near-6,400-square-foot home has six bedrooms and seven and a half bathrooms, a pool and spa, and a three-car attached garage. Not bad for a first-time buyer who was still in his teens at the time!
What is Blanket Jackson's net worth?
Blanket Jackson (now known as Bigi Jackson) has a current net worth of $100 million, per Celerbtiy Net Worth. Blanket Jackson is the third child of late musical legend Michael Jackson. He was an associate producer on the 2013 film "Kingdom Come." He changed his name from Blanket to Bigi in 2015.
What he does for a living is not that clear, but Bigi Jackson made a rare TV appearance to call on world leaders to take action, following in the footsteps of his late father as an environmentalist.