Glenda Cleveland tried to warn cops about Jeffrey Dahmer — Her story is told in 'Monster: The Jeffrey Dahmer Story'.
TW: This contains mention of gruesome, real-life violence.
Glenda Cleveland (Niecy Nash) refuses to eat a sandwich from her neighbor Jeffrey Dahmer (yes, the serial killer, played by Evan Peters in the series) in the chilling trailer for the new Netflix series Monster: The Jeffrey Dahmer Story.
Did the notorious murderer actually have a normal neighbor who was suspicious of him? Here's what we know.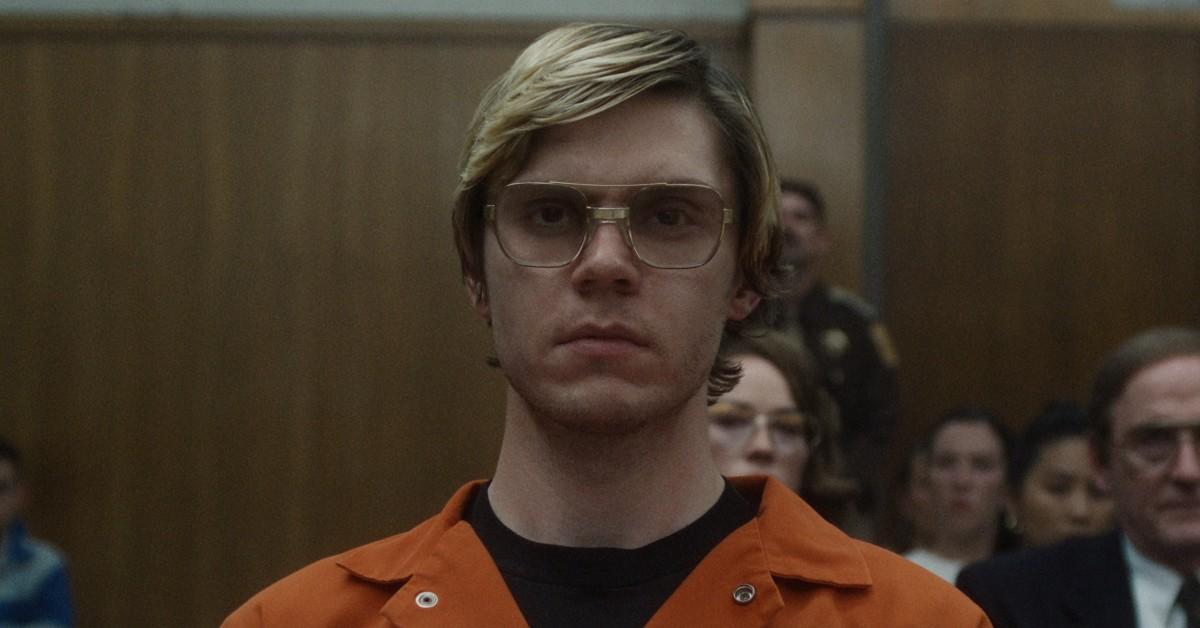 What happened to Glenda Cleveland?
Yes, Glenda Cleveland was really Dahmer's neighbor. A rather damning article in the Milwaukee Journal Sentinel asserts that "the serial killer could have been stopped two months earlier if police had only listened to [Cleveland]."
According to reports, back in 1991, Cleveland's teenage daughter Sandra Smith and teenage niece Nicole Childress saw a naked, bleeding, and incoherent teenage boy running away from Dahmer in an alleyway in the early morning hours of May 27. They tried to shield the boy from Dahmer and called the cops, who arrived shortly after.
"We tried to give the policemen our names, but he just told us to butt out," Smith previously said, per AP News. "I couldn't understand why he didn't want our names. I said, 'What are you going to do about this? This is a boy.'"
What we know now is that the boy was 14-year-old Konerak Sinthasomphone, who had been drugged, assaulted, and injected with hydrochloric acid by Dahmer. Dahmer would go on to murder him hours later, but at that moment with the police, Dahmer convinced the cops that the young man was his 19-year-old boyfriend who had just had too much to drink. The cops brushed off the incident as "a domestic squabble between two homosexuals," per a 1991 Milwaukee Sentinel report.
Per iHorror, Smith and Childress went home and told Cleveland, who followed up with the police by phone, sharing her concerns and telling them repeatedly that she believed the young man was a child. At one point, she said: "Are you positive? Because this child doesn't even speak English. My daughter had, you know, dealt with him before, seeing him on the street. You know, catching earthworms." Cleveland was assured that he wasn't a child.
Dahmer went on to kill four more victims after Cleveland's concerned reports to the police were ignored.
Per the Milwaukee Journal Sentinel, Cleveland — who had grown up in a family that valued truth and helping others — passed away at age 56 on Dec. 24, 2010, with the medical examiner ruling it a "natural death caused by heart disease and high blood pressure."
As the publication notes: "Cleveland was honored formally by the Common Council and the County Board. Mayor John Norquist called her a model citizen. She received awards from local women's groups and even the Milwaukee Police Department. Some of the plaques were still hanging on the wall of her immaculate apartment two decades later, her daughter said."
The paper noted that she'd stayed in touch with Konerak Sinthasomphone's family and had gone to one of their son's weddings.
The 'Monster: The Jeffrey Dahmer' trailer shows Jeffrey Dahmer offering Glenda Cleveland a sandwich that appears to be made from one of his victims. Did that really happen?
In the trailer for Monster: The Jeffrey Dahmer Story, Cleveland wisely turns down a sandwich offered by her killer next-door neighbor. After all, the real Dahmer confessed to eating some of the organs of his dead victims.
While there's no confirmation that the real Dahmer offered Cleveland a sandwich made from the bodies of his victims, it's still a downright chilling moment from the trailer.
Niecy noted in a Netflix interview that Cleveland herself was truly another victim of Dahmer's in a way. The aforementioned incident with Konerak Sinthasomphone is included in Monster: The Jeffrey Dahmer Story, and Cleveland is depicted attending Sinthasomphone's funeral.
Niecy noted in the interview that she would want people to know that "Glenda Cleveland was a special woman. To be able to continue on, and on, and on in an effort to get someone to do something. She deserved more than a cheesy plaque at the bottom of a social hall somewhere."
Monster: The Jeffrey Dahmer Story is available on Netflix.