Melissa Joan Hart is an American actress, producer, and director who has made an impressive fortune from her years of acting.
She skyrocketed to fame starring roles as the title characters in the sitcoms Clarissa Explains It All, Sabrina the Teenage Witch, and Melissa & Joey, and also in No Good Nick. She has also appeared in the films Drive Me Crazy, Nine Dead, and God's Not Dead 2. She also appeared in commercials and music videos like "(You Drive Me) Crazy" by Britney Spears.
Melissa booked her first commercial when she was only 4 years old. She discovered the world of acting soon afterward. By the time she was a teenager, she was busy working on shows like Are You Afraid of the Dark? Melissa has continued working in show biz well into her adulthood. A sought-after executive producer and director, she now contributes to projects like the Clarissa Explains It All reboot.
On Monday, March 27, Aiden Hale, 28, walked into the Covenant School in Nashville, Tenn. armed with a gun. He never left. After killing six people, three of which were children, Hale was gunned down by police. During the melee that ensued, something unexpected happened. The actress played a part in helping children get to safety.
She later took to Instagram, briefly describing her and her husband's involvement. Although gun control shouldn't be politicized as people are actually dying, some folks were reminded of Melissa's "conservative" views.
In wake of her herodic gesture which she has been praised by many online, many are curious to know about her family and personal life. Like, who she is married to and the number of kids she has now. Here's everything we know about the actress.
Melissa comes from a family of actors, actresses, and movie buffs.
The love of acting runs in the Hart family. The oldest of eight siblings, Melissa was the first to achieve a breakthrough in show biz. Elizabeth, Emily, Alexandra, and Samantha have all tried acting. Trisha produced Tying the Knot: The Wedding of Melissa Joan Hart and a TV movie, Silencing Mary, per IMDb. Melissa's brother, Brian, played a police officer in the 2014 TV movie The Santa Con and Chase Tompkins in 1997's The Right Connections, per IMDb.
As a child actor, Melissa worked on commercials for Rice Krispies and Children's Tylenol before graduating to TV miniseries like Kane & Abel and The Equalizer. She used to be the brand ambassador of Nutrisystem.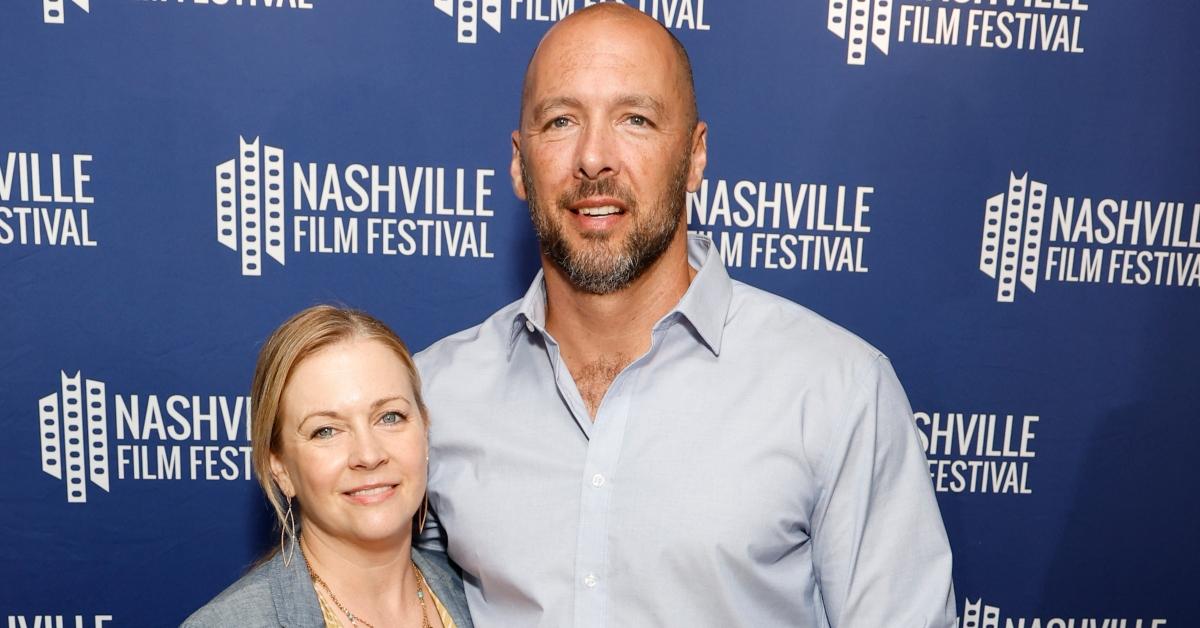 In addition to acting, directing, and producing, Melissa is also raising three boys with her hubby, Mark Wilkerson.
Melissa first met Mark Wilkerson, the lead singer and guitarist of Course of Nature, at the Kentucky Derby in May 2002 — and it was love at first sight. They tied the knot on July 19, 2003, in Florence, Italy.
Melissa and Mark welcomed their first son, Mason, on Jan. 11, 2006. Their second, Braydon, was born on March 12, 2008. Their youngest, Tucker McFadden, was born on Sept. 18, 2012. As Melissa told Yahoo!, being the oldest sibling was her early introduction to parenthood, but she sometimes still relies on her mom, Paula, for advice.
"My mom raised [eight] kids, and it was not always easy, but I somehow think my three boys are more difficult … I rely on her for great advice," Melissa said. "She is around a lot to help us out and to be around for the kids, which is amazing."
Melissa Joan Hart lives near Covenant School and was nearby the day of the shooting.
In the March 29 episode of her podcast What Women Binge, Melissa went into greater detail surrounding the day of the Nashville school shooting and the role she played in the tragedy.
She repeated a few things from her original Instagram video such as the fact that she and her family also lived in Connecticut when the Sandy Hook school shooting happened.
"We were a few miles away, same county different towns. It was too close to home for me. That changed my life," she said.
On the day of the Nashville shooting, Melissa's children were home from school due to parent-teacher conferences. Melissa and her husband Mark Wilkerson were en route when they saw a woman and a group of children emerge from the woods by the highway.
She said the look on the teacher's face changed her life once again. "I was trying to understand what she's doing. Why is she taking these children on this five-lane street," Melissa asked herself.
She quickly got out of the car while Mark stayed because he understood what was probably happening and didn't think the children seeing a man would help. While helping the kids cross the street, recalled one little girl looking up and asking, "What's going on?"
While she didn't know the specifics, Melissa knew something was terribly wrong.
Eventually, police did show up and Melissa described the scene as "madness," as well as the "saddest thing she's ever seen." After the kids were moved from the side of the road, Melissa heard a woman say "My children are in that school."
Another woman approached them and the three prayed together while Melissa's husband attempted to get information from authorities. Police told Mark that families were being taken to a fire station so they drove there and continued to direct other family members to the station.
Overall, she described the scene as confusing and sad but soon her despair gave way to anger as Melissa struggled to comprehend how this could keep happening.