Did Phoebe Bridgers and Paul Mescal split? Rumor mill in full swing.
From Shawn Mendes and Camilla Cabello to Kendall Jenner and Devin Booker, it's absolutely tragic when cute celebrity couples break up. Like hello, do you mean to tell us that we just spent months (sometimes years!) following your courtship, liking all of your Instas, and thinking up creative joint couple names like Kete just for it to be over? Ugh.
Well, we might have another couple heading to the relationship graveyard. There's a rumor circulating that Phoebe Bridgers and Paul Mescal have it called quits.
Phoebe Bridgers kissed Matty Healy and allegedly has been hanging out with Bo Burnham.
On Twitter, fans are speculating that Phoebe and Paul, who began dating in 2020, are over.
"Processing the Phoebe Bridgers Paul Mescal breakup rumors," wrote @bigdybbukenergy alongside a crestfallen video of Steve Carrell.
"Not me genuinely stressed at rumors that Phoebe Bridgers and Paul Mescal have broken up," chirped @eilis_walsh.
But brace yourself, because that's just the tip of the iceberg. The reason why Phoebe and Paul allegedly broke up is what has sent fans into a tizzy.
Twitter user @breadlover48875 basically summed up the rumored tea perfectly. "Paul Mescal potentially calling off his engagement to Phoebe Bridgers because she may be dating Bo Burnham but also she kissed Matty Healy is the bisexual Avengers Infinity War," she wrote.
To summarize, there is speculation that Phoebe may have cheated on Paul with comedian Bo Burnham. There's also a photo of Phoebe kissing Matty and we know this is a fact because the 1975 singer literally posted it on Instagram.
Filmmaker Bo also makes an appearance in the picture, which definitely doesn't make us feel better. But for all we know, Matty could just be continuing his tradition of kissing women at concerts.
As for Phoebe and Bo, nothing is confirmed yet, but a "very reliable source" told celebrity gossip account DeuxMoi that Phoebe and Bo were seen "making out" and "canoodling" in L.A. In fact, the account received several submissions regarding this unexpected courtship.
Furthermore, as Jezebel wrote, Phoebe and Bo were spotted sitting with each other earlier this week at a show that Bo produced. Paul was nowhere to be seen.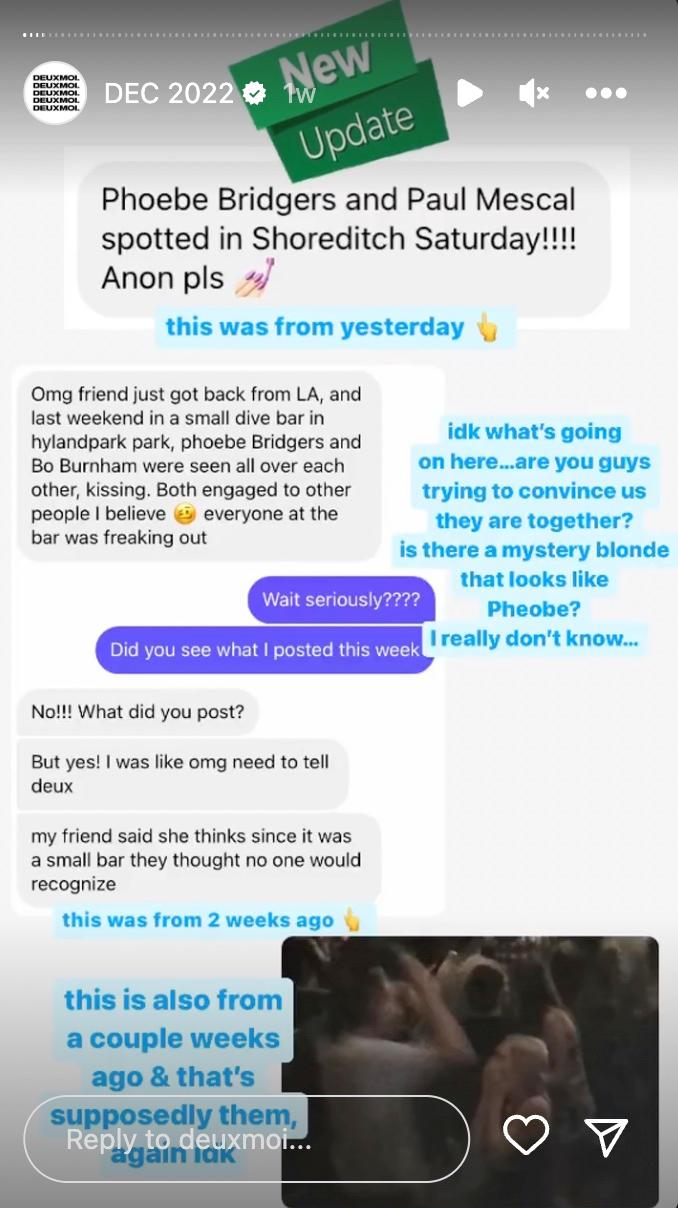 Some people are claiming that Paul broke up with Phoebe and she moved on with Bo. Others believe that Paul supposedly called off the engagement because Phoebe was secretly hanging out with Bo. Either way, we still don't know the truth.
Besides Phoebe and Paul's potential breakup, there's also chatter claiming that Bo may have spilt from his partner, film director, and screenwriter Lorene Scafaria, whom he has been with since 2013.