Rocker-turned-reality star Travis Barker has a staggering net worth but it is not as high as Kourtney Kardashian's.
With Til Death Do Us Part: Kourtney and Travis streaming on Hulu and Disney+, fans have a lot of questions. Like, why did an Elvis impersonator call Kourtney Kardashian by her sister Khloé's name during the first of the reality couple's three weddings?
And, what is Travis Barker's net worth?
The details behind Travis and Kourtney's opulent Portofino, Italy, the ceremony will make your jaw drop. While we know every member of the Kardashian clan is richer than our wildest dreams, let's take a deep dive into the Blink-182 drummer's net worth, which is no small thing, but admittedly still doesn't come close to his wife's.
So, what is Travis Barker's net worth?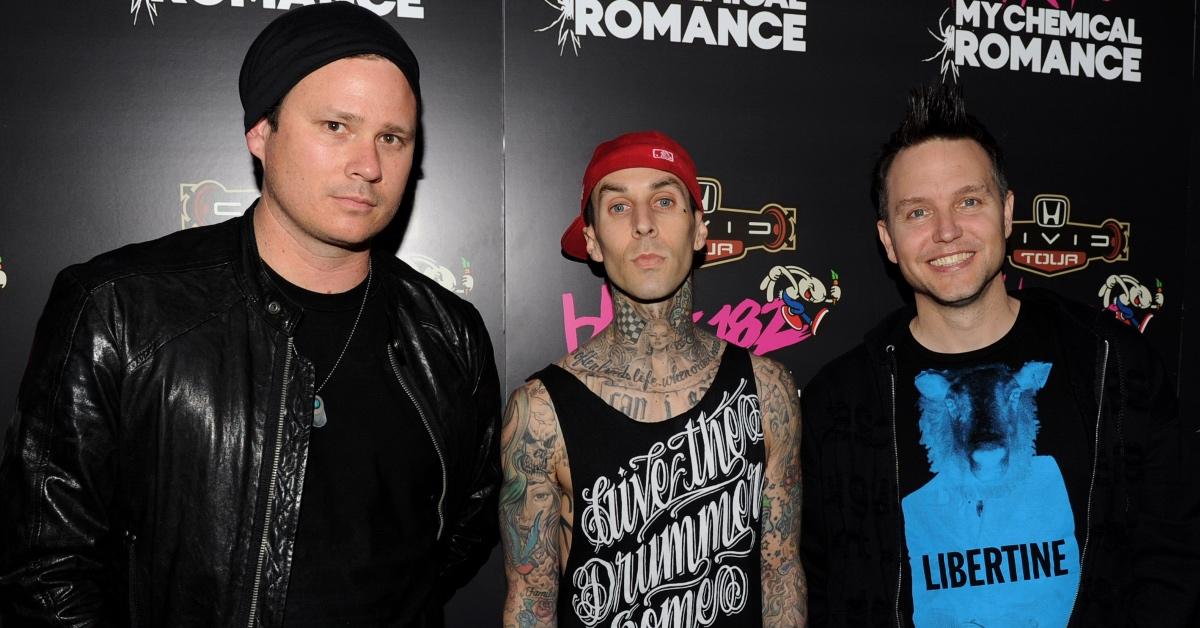 Travis makes up one-third of the 1990s punk band Blink-182, alongside Mark Hoppus, and Tom DeLonge.
The iconic group is best known for its "Enema of the State" album which features earworm tunes such as "All the Small Things" and "What's My Age Again?" The famed release sold over 15 million copies, and made Travis a very rich man.
Indeed, according to Celebrity Net Worth, the world-famous percussionist counts $50 million as his fortune, which almost nears the vicinity of Kourtney's pile of beans, which totals a cool $65 million.
Profile Summary
Celebrated Name:
Travis Barker
Net Worth:
$50 million
Profession:
Blink-182 drummer and reality TV star
Full Real Name:
Travis Landon Barker
Birthdate:
November 14, 1975
Birthplace:
Fontana, Calif.
Parents:
Randy Barker (father)
Gloria Barker (mother)
Marriages:
Melissa Kennedy [2001-2002], Shanna Moakler [2004-2008], and Kourtney Kardashian [2022]
Children:
Landon and Alabama Barker
Travis Barker is an American musician from the band Blink-182. He is also famous for surviving a 2008 plane crash that killed his friends on board. Travis is married to reality TV star Kourtney Kardashian.
Travis Barker is more than a drummer — he's an entrepreneur, author, and TV star.
In addition to releasing a series of successful albums and touring with Blink-182, Travis has parlayed his fame into multiple business ventures that added to the zeros of his bank account over the years.
Famous Stars & Straps is the drummer's clothing line, which he founded in 1999.
Travis also penned an autobiography, Can I Say: Living Large, Cheating Death, and Drums, Drums, Drums in 2015, which of course recounted the harrowing plane crash he survived and his grueling road to recovery.
Finally, as fans know, Travis has appeared on The Kardashians on Hulu, but notably previously appeared with his ex-wife Shanna Moakler — as well as their two kids, Alabama and Landon — on the reality program Meet the Barkers. Travis and Kourtney now star in Til Death Do Us Part: Kourtney and Travis.
Travis also owns his own house despite being married to Kourtney.
After tying the knot in 2022, Travis and Kourtney maintained their separate homes just a block away from one another.
Meanwhile, they do plan to live together in a mutual residence that set the couple back a small fortune. In fact, the reality duo purchased former late night host Conan O'Brien's beach house for $14.5 million in October of the year they became husband and wife.
Til Death Do Us Part: Kourtney and Travis is now streaming on Disney Plus and Hulu.