Apps to download movies – Where can I download movies and series for free? Which app is free for series? Here are the 32 best lists of Apps to choose from.
Whether you're stuck in your office eating lunch or trying to pass the time on a rainy day, watching movies from your phone is a great way to keep yourself entertained.
Google Play offers some of the best free movie download apps for Android. You can use these free apps to download movies on Android and watch them offline later. You can download movies to an Android phone or tablet with Wi-Fi or a mobile network and watch them whenever you want.
By restricting the apps to download movies on the Android device when your mobile is connected to Wi-Fi to save mobile data. After you download free movies for Android, you can watch them offline when you are away from your home. There are additional free Android Video/Movie Player Apps that support all movie formats. If you use an Android smartphone, you'll see a multitude of movie apps out there, but which ones are the best?
Here is the list of best apps to download free movies to watch offline on Android later. Most of the movie download apps are available on Google Play. However, you can also download free movies APK from other sources and install them on your phone.
Free Movie Download Apps for Android
1. Google Play Movies & TV
Google Play Movies & TV allows you to watch movies and TV shows purchased or rented on Google Play. You can watch your favorite movies and shows instantly on your Android phone or tablet or HDTV using Chromecast. You can also download and watch from anywhere, even when you're not connected. See Google's instructions to download videos to Android devices.
Google Movie Wishlist is offering you a notification feature when a movie is added to Google Play that was on your wishlist to watch later. With Google Play Movies & TV, you can get free full movie downloads for Android phones. However, you will need to purchase them to download them. You can watch the downloaded movies (purchased) on up to five devices using the same account.
Pros:
Good organizing of watchlist
Works offline as well
Good quality and easy access
Cons:
Takes time to load large videos
Video players don't work
App locks up and freezes constantly
Key Features: 700,000+ movies & TV episodes | Organized into topic and genres | See the latest releases | Watch laptop, Android phone, or tablet| Watchlist
Download: Google Play Movies (Free, Rent)
2. YouTube
YouTube offers an app for Android phones and tablets. You can stream and watch the hottest music videos to what's trending in gaming, entertainment, news, and more. You can subscribe to channels you love, share with friends, and watch on any device.
YouTube app lets you send videos from your phone or tablet to your Chromecast, game console, or smart TV. YouTube allows downloading movies in certain countries, like India, still not in the US or UK. The YouTube Premium plan lets you download free movies for Android regardless of the location, as long as it is available.
Pros:
Very useful for entertainment & educational purpose
Best app for viewing content
Playlists and watch later
Cons:
No longer providing picture-in-picture
When changed to higher quality, it starts buffering
Key Features: Browse on Home | See latest videos in subscription | Save to watch later | Connect with YouTube community | Create content | YouTube Premium
Download: YouTube (Free, Premium, Rent)
3. Netflix
Netflix is a leading subscription service for watching movies and TV episodes. The movie app, Netflix, introduced a lot of features and also started to allow downloading movies with Netflix's Android App. For Android users, even you can select to save the downloaded movies or TV shows to memory cards to save Android memory. Android with 4.4.2 OS or later users can take advantage of this feature for those who already have a valid monthly Netflix subscription.
However, Netflix will not allow you to download all of those videos from their collection. These download features are allowed only for certain titles. You can see a download icon next to the movie or Tv episode title if those are allowed to download into your Android phone. Here is the help link for those who have any difficulty in utilizing this feature.
Pros:
Economical way to watch movies & TV shows
Awesome shows in Netflix Originals
Up to 5 profiles for an account
Cons:
Noticeable bugs after the latest update
Key Features: Award-winning series | Movies | Documentaries | Stand-up specials | TV shows & movies | Up to 5 profiles for an account | Download and watch later | Kids with family-friendly entertainment
Download: Netflix (Premium)
4. Disney+ Hotstar
Disney+Hotstar may not be the best free movie download app for Android users in the US. Yet it is still worth a look. This app offers mainly Indian TV channels and shows along with movies. In addition to that, those coming in Star Network Channels will be available for streaming or downloading.
Disney+ Hotstar offers TV shows, movies, animation, music, news, entertainment, gaming, original comedy, and other massive videos. This app is compatible with Android phones and tablets. With Hotstar, you can get live IPL scores, IPL schedule & fixtures, and all other details for cricket fans.
Pros:
The video quality is really nice
All star channels are available
Favorite shows for free
Cons:
Continuous lagging
Not good for live streaming
Intrusive ads
Lesser options
Key Features: TV shows | Live news | 200 days of live cricket | Shows available on demand | Blockbuster movies
Download: Hotstar (Free, Premium)
5. Cinema HD
Cinema HD is another most popular online streaming app thanks to its smooth UI and easy navigation. It is the best alternative to ShowBox HD, the MegaBox streaming App having many features offered to the user without any cost. Search for a movie you will be given a number of streams and downloading options to choose from. Cinema HD is the best free movie downloader app for android.
Features Cinema HD
There are no annoying Ads.
Support HD quality and also allow all other resolution viewing.
Subtitles are available for a greater experience.
Download the movies and watch them later.
The interface is user-friendly and easy to use.
You can even download movies and watch them later.
As you can expect the app is not available on the Google play store, given Google's Policies & Conditions. But many times the app shows up in the Play Store so it is better to search for the app. But if you wish you can download the APK file for your Android smartphone.
6. Bee TV
BeeTV is a free-streaming application that can be dubbed as an unlocked version of Netflix and Amazon Prime. Search for any movie or series that you wish to watch, the app will list a bunch of links with MB size. You can click on any link and watch the content or even download it for free. Bee TV has an interface like Netflix and is pretty clean without any annoying ads. Enjoy newly released movies for free with this free-to-use Android application.
Goods About BeeTV
Unlimited movies, series, and new releases
Simple Interface like Netflix
Movies and Shows with multiple working links with different sizes
You can download movies and other content free
Fewer Ads
Bads About BeeTV
Some links may be dead
Initial load may take some time
7. BBC iPlayer
BBC iPlayer helps you to watch live TV and catch up on the past 30 days. You can watch on Wi-Fi and cellular networks and download TV programs to watch later on devices running Android OS Ice Cream Sandwich and above.
This free movie download app for Android mobile allows you to browse categories and channels, cast content to your TV using Chromecast, etc. iPlayer determines what type of network connection is in use (Wi-Fi or Cellular) for the Downloads feature. Downloads are enabled when connected to a Wi-Fi network. On a cellular network, downloads are disabled/paused.
Pros:
Sign in and watch everything on CBBC and news on it
Saving shows is easy
Setting up account is easy
Cons:
Difficult to watch audio described programs on the app
Downloads disappear
Playback controls outdated
Key Features: Latest TV series and Box sets from BBC | Live news coverage | Documentaries | Shows from CBBC and CBeebies | Download shows | Build playlist | Stream programs to TV using Google Chromecast
Download: BBC iPlayer (Free, Premium)
8. ITV Player
ITV Player can catch up on your favorite ITV shows or watch ITV channels live. Devices running on operating systems 4.1 and below will be able to access an older version of the ITV Player app. With an ITV player, you don't want to miss a show.
You can watch from Corrie and Emmerdale to live sport, Britain's Got Talent to hard-hitting documentaries, compelling crime thrillers, and all. ITV player also supports casting movies to Chromecast that can play on big screen TV. However, it may not be the best choice for free movie downloads for Android users.
Pros:
Very easy to set up
Many programs available in one app
Bugs are fixed after the latest update
Cons:
More features needed
No longer works with HDMI connection
Constant ads and glitches
Key Features: Stream live TV | Classic football events | Watch ITV, ITV2, ITVBe content up to 30 days after broadcast | Watch on a big screen with Chromecast | Ad-free | Download shows| Free 7-day trial
Download: ITV Player (Free)
9. MovieBox Pro
MovieBox is by far the most popular online movie download and streaming app thanks to its smooth UI and easy navigation. The App is the most talked-about online streaming App having many features offered to the user without any cost. The Showbox app has an extensive library of movies, TV shows, and music which are updated regularly. Just search for the movie and download it with a click.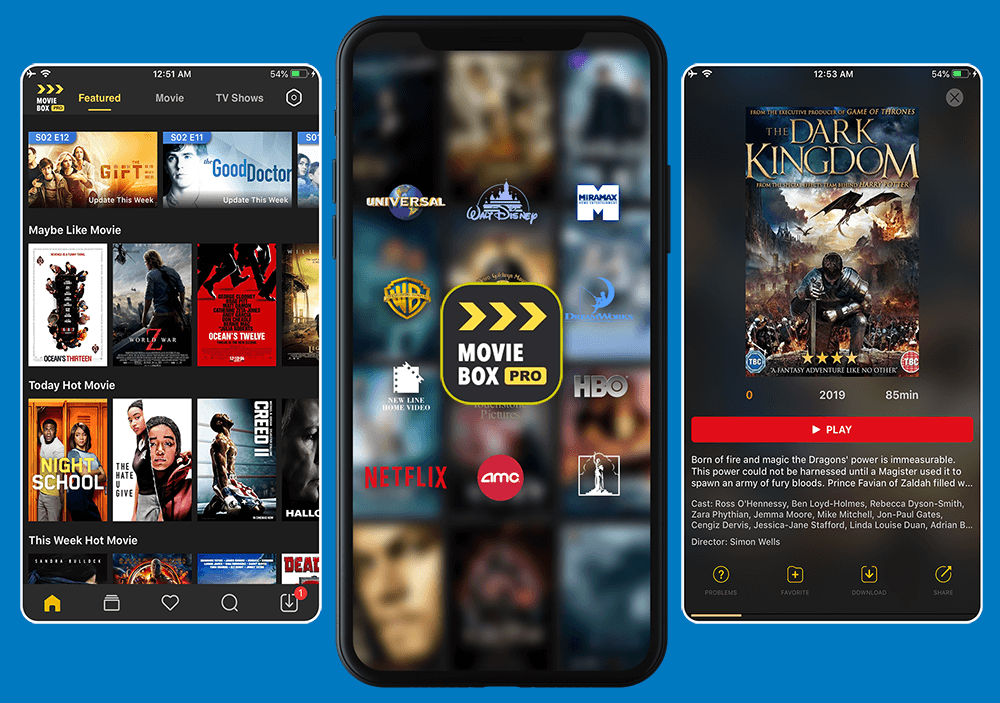 It is the best alternative to subscription-based video streaming services like Netflix where it offers audio-visual content for free. The Showbox HD indexes various torrent clients and sites to stream the movies and other content for absolutely free. The App offers large content of movies and TV shows without any account and annoying Ads.
Features of MovieBox
Showbox app doesn't require you to have a login account.
There are no annoying Ads.
Support HD quality and also allow all other resolution viewing.
Subtitles are available for a greater experience.
You can filter the movies by Genre, Year, Rating, and type.
The interface is user-friendly and easy to use.
You can even download movies and watch them later.
10. Movie HD
Movie HD App is brought to us by the team of HD Cinema & Sky HD. It hosts a large number of movies and TV shows which I recommend you should try. The app is specially designed and organized to watch free movies on Android. There are no subscriptions or Sign-Ups needed to use this App.
You can get the Movies HD Android App for free. The App has a very decent interface but the number of movies it has to offer will surely bring a smile to your face. It is the best alternative to subscription-based video streaming services like Netflix where it offers audio-visual content for free.
Features of Movie HD App
Subtitles are available for a greater experience.
Download the movies and watch them later.
AdFree
No registration is needed.
You can filter the movies by Genre, Year, Rating, and type.
A large collection of movies and shows.
The interface is user-friendly and easy to use.
Parental Control is available to block the content deemed inappropriate.
Support for chrome cast, Fire TV, and Fire Stick.
You can download the movie HD Apk file from the link below
What We Like
Best App for new releases
Lots of current movies and TV shows.
Intuitive interface.
Built-in entertainment newsfeed.
Viewable trailers.
What We Don't Like
Not available to download from the Google Play Store.
Possibility of malware in downloads.
Site goes down frequently.
ShowBox is one of the most popular movie apps for Android. It has both paid and free content numbering in the thousands. However, some of these sources aren't entirely legal, so tread with caution.
Because of these potential issues, Google Play doesn't host this application, so you'll have to sideload ShowBox to get it onto your Android device. The main thing to be wary of is where you download the app. Some sites that host this app may contain malicious software, so viewers beware.
12. VideoBuddy
VideoBuddy is an Android app that provides online movies, series, music, and TV shows from Hollywood and India to stream and download. Apart from movies, shows and series VideoBuddy is also a powerful platform for videos and music downloads from multimedia portals such as Facebook, WhatsApp, YouTube, Instagram, Tumblr, Twitter, and many other streaming sites.
VideoBuddy is an entertainment app targeted towards the Indian Audience offering free movies, TV Shows, and other content for free which you can either stream or download with a click.
Features of VideoBuddy
Free online Movies and TV Shows
Supports HD downloads
Quick access to all the major categories in the navigation bar
Huge catalog of movies, music, and videos.
YouTube Downloader
Block annoying Ads, Pop-ups, Banners effectively. Save your mobile data, and enjoy a comfortable browsing experience.
13. PrimeVideo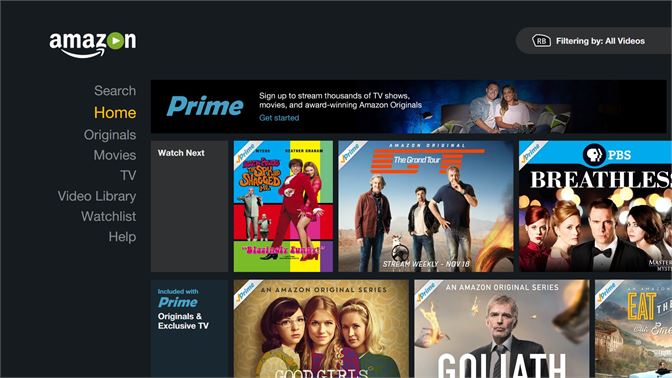 Prime Video by Amazon is the best Alternative to Netflix available in the web world, it is an On-Demand subscription service. The Instant Video hosts a number of Movies, TV Shows, Web Series, Animation, and Programs. PrimeVideo is picking up the slack with Netflix, adding new movies for its subscribers each month. The content growth on this platform is very impressive. You can expect movies and shows from some of the best and big production houses in the world.
Offline Download on Mobile App
Amazon Prime serves worldwide and holds country-specific rights to some of the premium local content and movies. Prime offers the option to set video quality and customize captions. The programs are categorized according to languages, nature, genre, and other in-depth sortation. If you are looking for regular new movies and original TV shows then Prime is the best option to go for which costs $12.99/month.
14. Tea TV
TeaTV is an Android app that allows you to watch, stream, and download Movies and TV shows for free. Developed with utmost care at the user interface, the app has a very intuitive design that will appeal to the users. TeaTV supports 1080p and you can access TV shows and movies on your Android devices.
TeaTV is the best alternative to popular Movie streaming Apps like ShowBox and Terrarium TV. You can even download the content. TeaTV also has a movie guide that offers information related to upcoming movies, reviews, and trailers. You can also maintain a watch history with a pause resume feature for quick access.
Features of TeaTV
Keep track of movies
Download Movies for Free
Latest TV Shows and Movies
Simple and Clutter-free design
Support HD streaming
15. Sony Crackle
Crackle is possibly the best free movie download app for Android and iOS users, especially for watching classic movies. It has a great collection of movies and TV series. You can stream the content on a PC or using an Android or iOS device. The user interface is very simple and clean. However, free full movie downloads for Android phones may not be possible using Crackle.
You can use the filter features in Crackle to find your favorite movies and TV shows. The app also keeps you updated with trailers and movie clips. Besides, as soon as you log in, you will get personalized content suggestions as well.
Note that you may see random ads when streaming content using Crackle. However, the ads are not as invasive as those seen in other free movie download apps. There is no limit to streaming movies and TV shows using Crackle either.
Pros:
Contents can be filtered according to preference
Great and free service
Cons:
App lacks a bit selection and updates
Black screen comes when playing next episode
Few freezes and glitches
Key Features: Free Hollywood movies | TV series | Watch premium TV shows and movies | Filter content | Handpicked recommendations
Download: Sony Crackle (Free)
16. Amazon Prime Video
As long as you are a Prime member, Amazon lets you download movies and popular TV shows with the Amazon Prime Video app. There is no need to pay additional money to download movies as long as you are happy with Prime movies. However, you can rent or purchase additional movies and download them from Amazon if you want.
Amazon Prime members can enjoy international and regional movies on Android phones or tablets. The streaming service also has many original movies and TV series that are both critically acclaimed and liked by users.
You can watch award-winning Amazon Prime original movies, such as Manchester By the Sea, Wonder Wheel, Gringo, and more using the app. they also have a web app to make streaming simpler for users. The only drawback is that using the streaming service requires a subscription.
Pros:
You can save your favorite shows
Shows recommendations
Get details about cast members
Cons:
Could have had HBO add on
When new episode, pause screen remains
Key Features: Download videos and watch later | Rent or buy new movies and shows | Phone or tablet or big screen with Chromecast | Multi-user profiles |Behind the scenes | Watch on Apple Tv
Download: Amazon Prime Video (Premium)
17. VUDU Movies & TV
VUDU Android app lets you watch movies and TV Shows wherever and whenever you want. You can watch the newest releases, including Star Trek Beyond, Ghostbusters, The Legend of Tarzan, and Fear the Walking Dead Season 2 way. VUDU for Android devices puts these and over 100,000 more movies, and TV shows only a tap and swipes away.
You can join VUDU for free, rent, or own only what you want, with no subscription or late rental fees. This app lets you stream directly to your phone or tablet, or download to watch offline and on the go. You can easily download free movies to watch offline on Android devices later.
Pros:
Lets you pay for what you want
Good prices and a vast selection
Great variety of movies and shows
Cons:
AirPods not compatible anymore
User interface not good
Bad tech support
Key Features: 1000+ free movies | Library of 100,000 titles | Download movies and TV to your phone | All your movies in one place
Download: VUDU Movies & TV (Free, Rent)
What We Like
Best Anime App with Thousands of anime episodes.
Create a queue for your viewing list.
Has a viewing history.
Does not require a paid subscription.
Available on Android, iOS, Windows, Xbox One, and PlayStation.
What We Don't Like
The most recent update has been hanging up on Android devices on occasion.
Too many ads.
If you're a fan of anime, Crunchyroll is a must-have app for your Android device. The developer promises over 25,000 episodes and more than 15,000 hours of the latest anime available. If you choose to subscribe to their premium services, you'll have access to the newest anime episodes immediately after they've aired in Japan.
19. Kodi
Kodi is a free movie app and an open-source cross-platform software media player. It is an entertainment hub for Home Theater PC. The best Android movie app uses a 10-foot user interface well suited for a living room media player. Furthermore, Kodi's graphical user interface(GUI) makes it easy to browse videos, photos, podcasts, and music.
The free movie app does not include any media or content. You should provide content from a device storage location, DVD, Blu-Ray, and so on. There is an additional feature called Estuary in Kodi. You can avail the skin to get additional benefits like work with phones and tablets. However, it is not designed to work with smaller phones.
Pros:
Excellent picture quality
Works great after the latest update
Fast
Cons:
Does not include any media
No affiliation to third-party plug-in
Too many ads
Key Features: Free | 10-foot user interface design | Graphical user interface | Estuary standard skin
Download: Kodi (Free)
20. AnyMe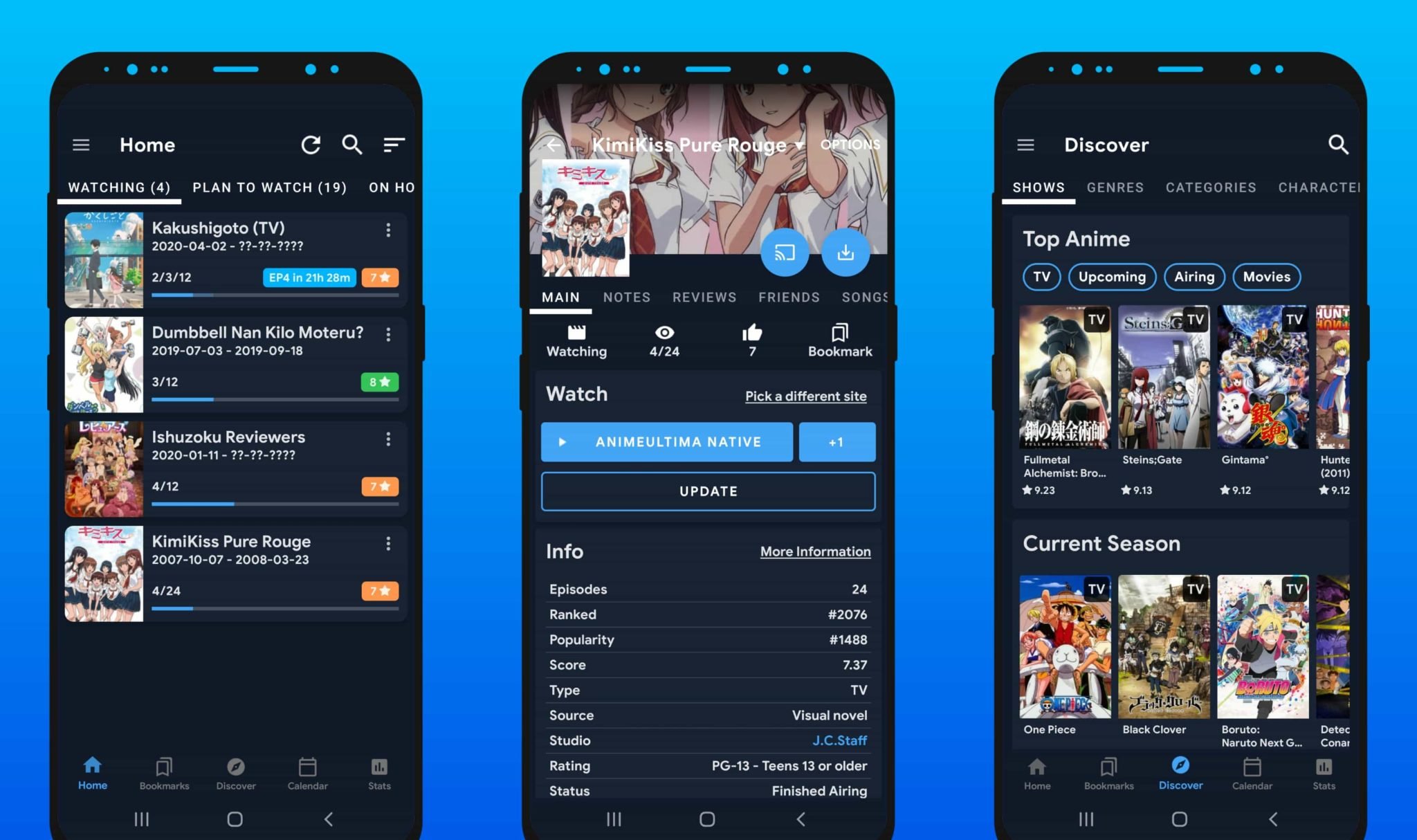 If you are an Anime fan then AnyMe is the App for you. AnyMe is a free Anime Streaming Platform and can be dubbed as Netflix of Anime. You get all the Japanese Animation in one place. Get access to thousands of episodes, movies, and anime OVAs, directly on your Android smartphone. A simple to use app which provides Anime in Subbed, English, and Spanish Dub. The site loads streams from global resources.
You can either directly play the video in the app and if not supported then the app lets you stream the video in any video player like MX Player. Best Anime App if you wish to stream Dubbed and Subbed Anime for Free.
Features of AnyMe
All Anime Shows at One Place
Dubbed and Subbed Anime Videos
Free with No Ads
Internal and External Video Support
21. Pluto TV
Pluto Tv offers thousands of movies and TV shows on demand. There are over a hundred TV channels like Pluto TV Movies, Pluto Tv Drama, Ghost Dimension, and many more. The channels cover movies and shows of all genres. Watch your favorite crime movies, animated ones, poker, sports, news, gaming, documentaries, and many more.
There are many binge-worthy live Tv channels you can watch for free. To list a few are the Unsolved Mysteries and Forensic Files for true crime fans, Fear Factor, and Ice Pilots. The free movie app telecasts Pluto TV Movies starred by Mila Kunis, Nicolas Cage, and Robin Williams. Go on download the app and see a lot of shows and movies live.
Pros:
Lots of shows both live and on-demand
A good alternative to a cable TV
Huge variety of channels
Cons:
No proper UI
Too many ads
No search button
Key Features: 100+ TV channels | Unlimited and free live TV | TV shows | Movies of different genres| Crime | Poker | Adventure | Unsolved mysteries | Kickboxing
Download: Pluto TV (Free)
22. Dove Channel
Dove Channel telecasts shows and movies which are truly family-friendly. You can give a safe place to your family and make sure every member watches safe content. The filtering tool of the Dove channel filters content that includes nudity, language drugs, and violence. Every title is reviewed by a trained and certified Dove Foundation staff.
The free movie app also has a premium version at $4.99 per month. In the premium version, you can customize your Safeguard settings to create a filtered list of your titles. Dove Channel is now available on both Android and iOS. You can see a diverse list of TV shows respecting your family values in this free movie download app.
Pros:
Good inspirational movies
Good video selection
Clean, enjoyable, and uplifting movies
Cons:
No option to cancel subscription
Too many ads
App crashes sometimes
Key Features: Parental control | Filtered content | Dove Foundation certified contents | Build & manage watchlist | 30-day free trial
Download: Dove Channel (Free, Premium)
Curiosity Stream assures streaming of award-winning ad-free content. The free movie app for Android comes with non-fiction streaming covering science, nature, history, biographies of real characters. Learn about nature and space through shows of Sir David Attenborough, Michio Kaku, and Brian Green.
Nurture the curiosity of your kids with CuriosityKIDS which is a dedicated collection of safe and entertaining programs. Let it contribute to your kid's passion for exploration. If you take a premium membership which is only $2.99 USD per month. In that, you will get extra benefits like unlimited streaming, 4K and HD documentaries on multiple devices, and many more.
Pros:
Screen sharing possible
Can stream on chromecast
Best educational & entertainment app
Best documentary and intellectual viewing
Cons:
Autoplay not there
Promo code does not work
Ads and pop-ups
Key Features: Non-fiction streaming service | CuriosityKIDS with filtered content | Ad-free content | New content weekly
Download: Curiosity Stream (Free, Premium)
24. Old Movies
Are you a fan of old classic movies? Then you are at the right place. Watch and download unlimited classic movies for free in Old Movies. Old movies bring together movies of your favorite actors like John Wayne, Gary Cooper, Marlon Brando, or Debbie Reynolds. Also, enjoy the outstanding work of directors like Orson Welles or Alfred Hitchcock.
Besides, there is a collection of acclaimed classic movies like The Gold Rush too. You can enjoy free full movies on your mobile device, tablet or Android TV, Chromecast, or Chromecast built-in TV. You can browse through different categories, be it action, family, fantasy, love, musical, or horror, choose your genre, and start watching.
Pros:
Good picture quality
Loaded with great old movies
Large range of movies
Cons:
Too many ads
Low sound
Video jumps from half to beginning
Key Features: Classic Hollywood cinema era | Great actors and actresses | Acclaimed classic movies | Free full movies | Available on Amazon Fire TV
Download: Old Movies (Free)
25. Hoopla Digital
One of the best apps for saving your money on audiobooks, movies, eBooks, and TV shows. Hoopla Digital delivers you a digital library app with over 80,000 titles. Hoopla Digital has best-selling novels which you can take and you don't have to pay a late fee. Also, you can take your library with you and read on your mobile or tablet.
The app also has blockbuster movies that you can instantly watch or download for offline watching. You can also sync your content to other devices. How amazing it is that you can watch ad-less TV, get books, and audiobooks for free. Also, it has good customer support.
Pros:
Ad-less TV
Good customer service
Save money on audiobooks by using the app
Cons:
Papers are not aligned page number wise
can't browse by format, author, and title
Missing accessibility features like text to read aloud
Key Features: Available 24/7 | No late fees | Travelling library | Download for offline reading or watching | Sync many devices
Download: Hoopla Digital (Free)
26. Kanopy
You can stream many films in Kanopy that are completely ad-free. You can sign up with your library card and then enjoy watching festival award-winning films and thought-provoking documentaries. Every week, new movies or shows are added. Kanopy is now available on mobile, web, and living room devices.
Kanopy also features intellectual content including world cinema, classic cinema, documentaries, short films, and even lecture courses. The full movie download app is easy to navigate, saves your list, and has a countdown on movies you have left. There is a Kanopy Kids section for your children which has parental control.
Pros:
Engaging content
Ad-free
New titles added every week
Cons:
Libraries fail to load repeatedly
Crashes constantly
Key Features: 1000+ films | Ad-free | Sign up with library card | New titles added weekly | Kanopy Kids | Available on mobile, web, and living room devices
Download: Kanopy (Free)
27. iflix
iflix is promised as a forever-free version app. This makes it the best free movie download app for Android users in the US. iflix app offers mainly Indian You can use this app to discover thousands of movies, preview, and play them. The iflix app support you to search and find out your favorite TV show and watch on an Android phone or tablet.
The premium version of the app is coming with the streaming capability of live sports and is free of ads. The iflix Android app lets you download movies and TV shows to watch offline later. There is a dedicated Kids section with a lot of videos and TV shows for kids.
Pros:
So many great shows
Good quality and variety of category
No need for subscriptions
Cons:
Problem playing the next episode
Needs more movies and options
Problem with downloads
Needs to update shows more frequently
Key Features: Best original Asian content | Shows in B&B, Section St. Valentine | The Disappearance of Divine show | Asian dramas like The Sweet Blood, Attack on Titan, The Final Season, Love Scenery
Download: iflix
28. MX Player
The MX Player app allows you to enjoy the movies for free. MX Player lets you download free movies for Android, which you can watch later. Whether you are waiting in a long queue or traveling, you can watch these downloaded movies on Android. MX Player is also a video player so that you can play downloaded videos and movies on it. In addition to downloading the movie, you can download subtitles to the film, for foreign-language movies.
MX Player offers to watch movies in HD quality, free of cost on your Android. The movie download app mostly contains Indian and Asian movies and TV shows.
Pros:
Free movies/ TV shows
Plenty of free shows
Good prices and a vast selection
Cons:
Air pods not compatible anymore
Geared towards buying movies
Bad tech support
No way to switch payment options on app
Key Features: Watch 1000+ movies | Library of 100,000 titles | Download movies and TV to phone | All movies in one place
Download: MX Player
29. Popcornflix
Popcornflix app now allows you to download free movies for Android devices as well. In fact, the app is now available for Mac and iOS devices too. Popcornflix can be the best alternative to subscription-based apps for watching movies. It allows you to stream movies directly and it is completely free.
Popcornflix does not smack you with annoying ads when streaming movies or TV shows. There is no need to sign up or create an account either. Popcornflix has an elegant and intuitive interface and offers multi-language subtitles for movie streaming as well.
Pros:
Adds new content every week
Good movies and shows
Cons:
Categories of movies not organized
Can't find tags to watch later
No watch list
Ads are too long
Key Features: Stream free movies | Selection from new titles, most popular titles | Hidden gems | Action | Horror | Family | Adds new content every week
Download: Popcornflix
30. Tubi
Tubi is a great app that allows free movie downloads and TV shows for Android phones. You can even stream the latest movies using the app or download them for offline watching.
The movie-watching app can be an ideal choice for free movie downloads for Android users. VidMate has a simple and easy-to-navigate interface too. You can browse through the massive collection of movies using VidMate, and stream or download the one you want.
Pros:
Has a "Not on Netflix" section
Customizable watchlist
App is free
New videos added every week
Cons:
Too many ads
Needs more movie variety
Lags and crashes all the time
Key Features: International hits and hidden gems | Pick up watching where you left | Manage personal video queue | Anime | Korean dramas | Telenovels | Reality shows | New videos added every week | "Not on Netflix" section
Download: Tubi
What We Like
Best for International and short stories
Free to join.
Lots of creative videos to stream.
No in-video ads.
Ability to download videos.
Can follow video creators.
What We Don't Like
No commercially made movies.
The app doesn't work as well as the website.
Often seen as YouTube's younger sibling, Vimeo hosts more than homebrewed videos made by your buddies. For the adventurous, there's quite a collection of unique film shorts and art films, and it's a great place to find budding directors. Like YouTube, you can also upload your own videos, although Vimeo is more for professionals trying to break into the movie business.
32. Hulu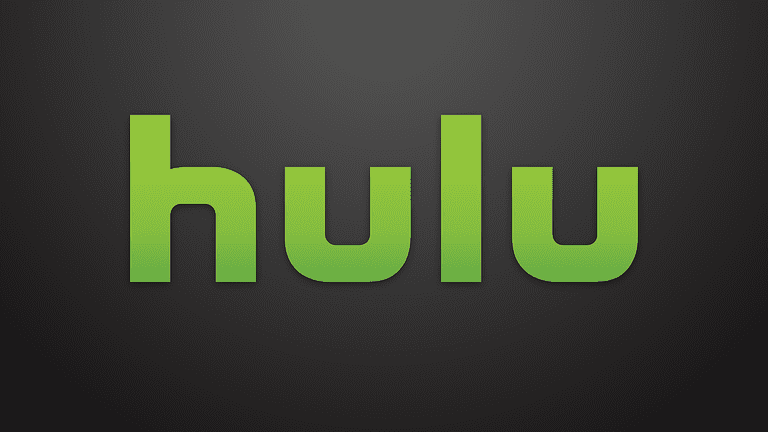 Hulu is a subscription-based online streaming platform but you can opt-out to pay and watch limited content for free which includes more than 150 movies and TV Shows. The services of Hulu into Live TV started in 2017, prior to that it just use to host a series of TV shows both old and new, movies, and other infotainment programs.
It works as a hybrid of Sling TV and Netflix, offering both TV Shows as well as Live TV to its users. The content and presentation of the App vary with the cost, low price will offer you content with Ads while a high package offers Live TV with no Ads. Hulu TV Pricing starts at $7.99 Though you may find the cost on the higher side I believe it's worth a buy.
Goods About Hulu
More than 150 Movies and TV Shows
HD Streaming
Dedicated Mobile Apps
Conclusion
With a free movie download app for Android mobile, you can save mobile data by downloading shows and movies with Wi-Fi. Later, when you go out, you can watch downloaded movies offline while on the road. There is no need to be on Wi-Fi or a data network to watch these downloaded movies.
Please consider saving movies to an external memory card. This is especially important when using the app for free full movie downloads for Android phones. This will help to save the internal memory of your Android device. That means you can continue downloading videos using the best free movie download app for Android.