Jade Cargill is one of the most popular AEW superstars — What is her net worth?
Jade Cargill is an American professional wrestler for All Elite Wrestling (AEW), where she is the current AEW TBS Champion in her first reign.
JADE CARGILL Profile Summary
Job: Professional wrestler
Net worth: $1.5 million
Birthdate: June 3, 1992
Birthplace: Gifford, Florida
Parents: Ricky Cargill and Debra Green
Siblings: Deandra, Dawn, April, and Shawn
Marriages: Brandon Phillips
Children: Bailey Quinn (b. 2017)
Education: Sebastian River High School, Vero Beach High School, Jacksonville University
Although she initially tried out for the WWE, professional wrestler Jade Cargill took her talents to All Elite Wrestling (AEW) at the request of founder and owner Tony Khan. She signed a multi-year contract and made her debut on Nov. 11, 2020. From then on, Jade worked alongside former AEW superstar/executive vice president Cody Rhodes and his wife, Brandi.
Nearly a year after her professional wrestling debut, Jade became the inaugural AEW TBS champion. Since becoming the champ, she's successfully defended her title a number of times. Even better, the Oct. 31 episode of AEW Dark Elevation saw Jade become the first AEW star to start their career 40-0 — talk about iconic.
With that said, we can't help but wonder: What is Jade's net worth? Let's find out!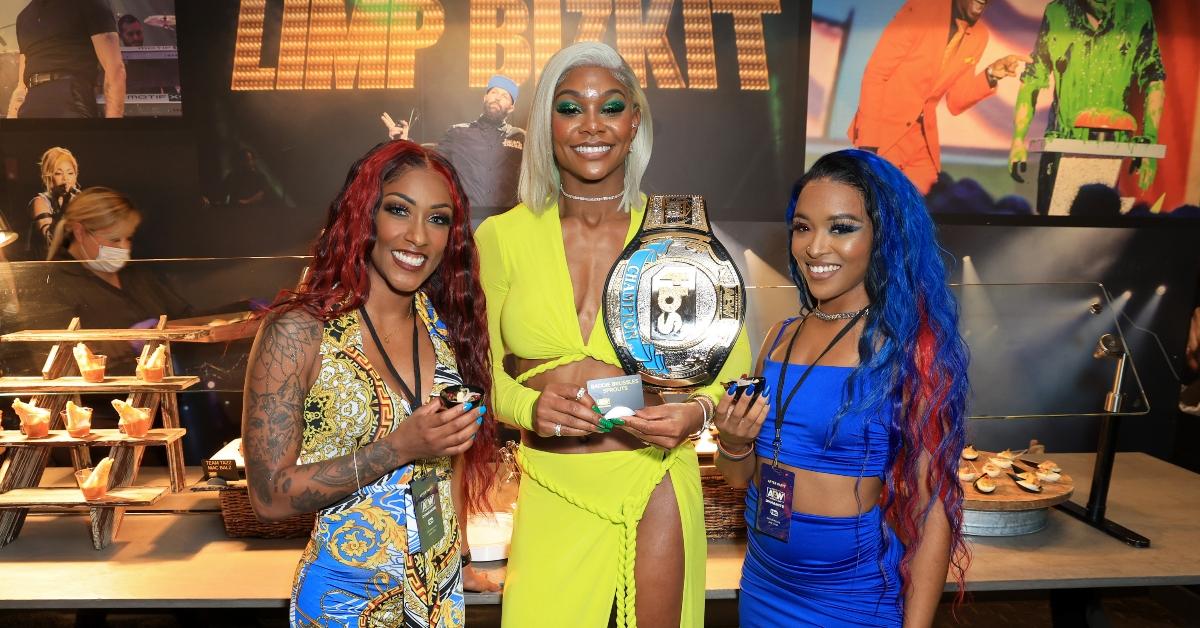 What is Jade Cargill's net worth?
According to All Famous Birthday, Jade Cargill's net worth currently stands at an estimated $1.5 million. Although most of her earnings come from AEW, the 30-year-old Florida native also works as a child shrink, per her Instagram bio — Jade graduated from Jacksonville University with a social science degree and has a certified masters in child psychology.
Additionally, the link on her Instagram profile reveals that Jade has an official VIP fan page. She often posts behind-the-scenes content from photoshoots. If you're interested in seeing more from Jade, you'll have to subscribe — a one-month subscription is $9.99, while six months is $47.95. As for a one-year subscription, it'll cost $77.92.
Jade is in a relationship with professional baseball player Brandon Phillips.
In a personal essay published in The Players Tribune, the former collegiate athlete recalled the first time she met her partner, professional baseball second baseman Brandon Phillips. "I met Brandon when I was 22 years old, in 2015," Jade revealed. "I'd started modeling, and my manager was actually a childhood friend of his."
She continued, "And one day, my manager and I were meeting at a Starbucks — and then directly after, I guess he was meeting up with Brandon. So I was walking out the door as Brandon was walking in, like a rom-com or something. And I guess he noticed me and asked about me. Like, 'Who was that?'"
"It took four months for me to actually say, 'Alright, fine.' I'm not big on athletes! Lol. Being an athlete myself, I just know the operation," Jade wrote. "Plus, I was living in France at the time to model. But he was trying, trying, trying. And eventually, I was like, 'Alright. Give him my number. Let's see where this goes.'"
Jade described their dynamic as "sweet," later referring to Brandon as a "goofy, fun-loving man. … I'm very similar, so we just mesh. He's the person that calms me down, I guess you could say. He's my peace."
In 2017, Jade and Brandon welcomed their first child, a daughter named Bailey Quinn Phillips.
In the 1999 MLB draft, Brandon was selected by the Montreal Expos in the second round; nearly three years later, he was traded to the Cleveland Guardians and started as the team's second baseman. By April 2006, Cleveland had enough and traded Brandon to the Cincinnati Reds, where he played for 10 years.
He later had brief stints with Atlanta Braves, Los Angeles Angels, and the Boston Red Sox before taking his talents to the Lexington Legends of the Atlantic League of Professional Baseball. In 2021, Brandon became the first Atlantic League player to appear on the roster for a team they co-own.