Wait, did Brooke Shields and Michael Jackson actually date back in the day? Here's everything to know about the actress's relationships.
Actor and model Brooke Shields reclaims her past and present history in a new Hulu documentary titled Pretty Baby: Brooke Shields.
In the documentary, Brooke opens up about past traumas, how she was sexualized at a young age, and how that made her vulnerable to those who were eager to take advantage of her naivety.
To say the actor gets candid is an understatement — but it's a powerful means for Brooke to tell her story on her terms.
Part of Brooke's story involved her relationship history, including how she fell in love with her husband of 20 years, Chris Henchy. Did Brooke actually date Michael Jackson before tying the knot with Chris? Was Liam Neeson her boyfriend at one time? Here's what we know.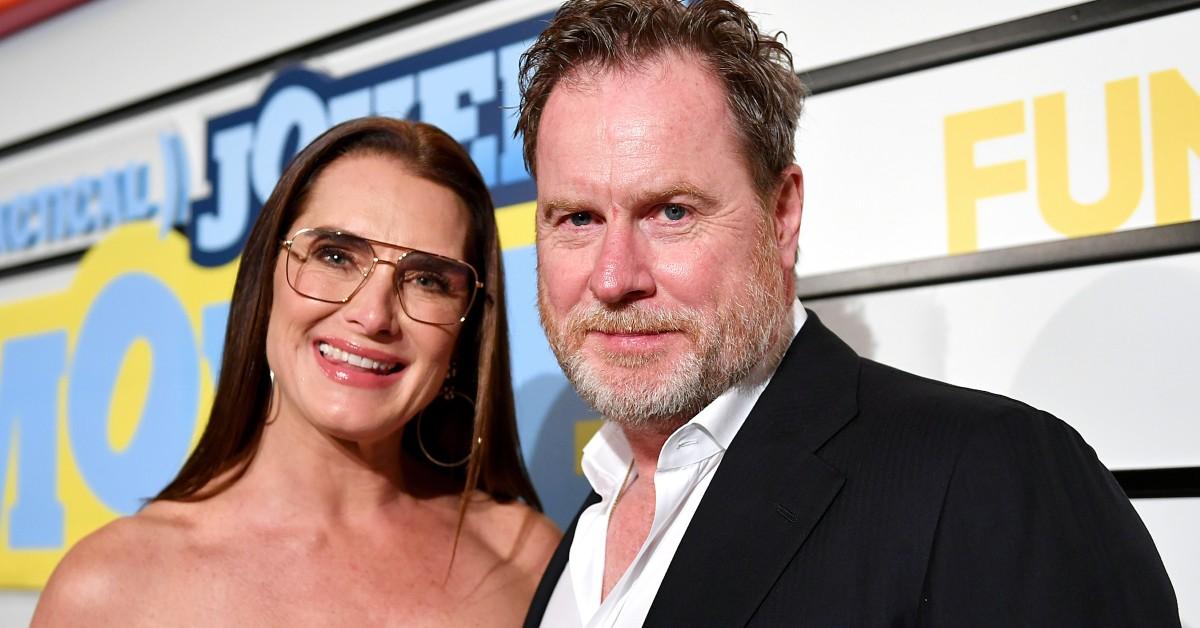 Details on Brooke Shields's relationship history.
Long before Brooke met Chris Henchy, she dated future Lois & Clark: The New Adventures of Superman star Dean Cain. However, Brooke recounted how, at the time, Dean felt "more comfortable with… the sexual part," of their relationship (per Page Six) than the emotionally intimate aspect of a relationship that Brooke longed for.
Brooke and Dean dated while they both attended Princeton, but Brooke eventually broke it off after two years. She moved on to some guy named Liam Neeson afterwards.
Things got serious pretty fast between Liam and Brooke. According to People Magazine, Liam asked Brooke to marry him (without a ring!) after they dated for only three months.
Needless to say, Brooke, who was initially impressed that she was "going out with a real movie star" at the time, didn't marry Liam.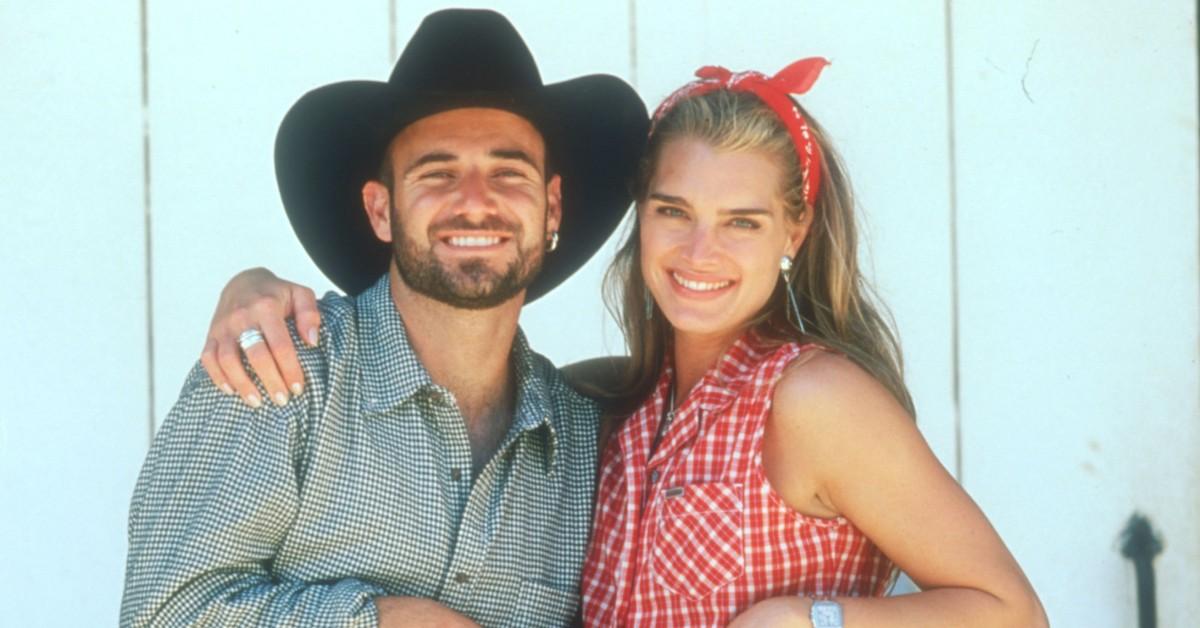 Brooke's first husband had major trust issues.
How do you move on from a movie star? You find a famous tennis player, obviously! Brooke and Andre Agassi began bonding in 1993, cementing their love with marriage vows in 1997.
However, Andre had displayed some red flags prior to their wedding, destroying all his tennis trophies in a fit of jealousy after watching Brooke film her famous cameo on Friends, per The Daily Mail.
Andre later admitted to Brooke that he had been struggling with addiction. He admitted in his own memoir that their marriage had been a mistake as well.
Brooke and Andre divorced after two years of marriage.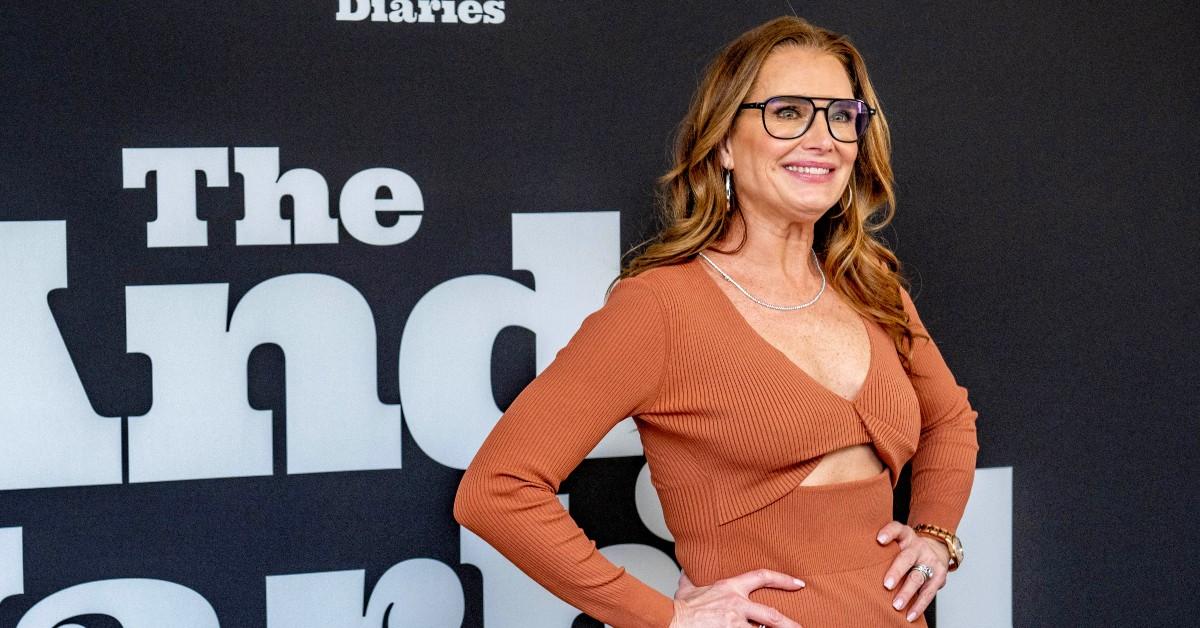 Brooke Shields has been in relationships with Tico Torres (1992 – 1993), Michael Bolton (1991 – 1992), Nicolas Cage (1987 – 1988), Dodi Fayed (1984 – 1985), Prince Albert of Monaco (1983), Ted McGinley (1982), Matt Dillon (1980 – 1981), Leif Garrett (1979), Scott Baio (1978), David Keith and Woody Harrelson, per WhosDatedWho.
Brooke Shields has had encounters with Julian Lennon (1992), Chad McQueen (1990), John Kennedy Jr. (1982) and Francesco Scavullo, per WhosDatedWho.
Shields and Scott Baio were teen idols and rumored to be more than friends.
Brooke Shields and Scott Baio were two child stars and teen idols (here, at an event together in 1978), and although their courtship seemed picture-perfect, Shields wrote in her 2015 memoir, There Was a Little Girl: The Real Story of My Mother and Me, that their dates were just for show; even Baio admitted that Shields was "just a friend."
John Travolta is among Brooke Shields' exes, and they dated in 1981.
Shields and John Travolta both had films coming out (Endless Love for her and Blow Out for him) when Shields' publicity-hungry mom Teri played matchmaker between her 16-year-old daughter and the 27-year-old star in 1981. Although the relationship was platonic, the actors did develop an affection for each other. "Brooke exudes goodness," Travolta said at the time. "She's untainted. You don't want anyone to hurt her or say the wrong things, because she's special."
Shields reportedly dated George Michael but split because he "wanted to concentrate on his career".
"It was definitely one-sided," she writes of her crush on George Michael (here, with her at a party in 2000), who later came out as gay. One night at an event, Michael took her home in a limo, but when it came time to seal the deal, he shut things down by saying he wanted "to concentrate on [his] career."
So did Brooke ever date Michael Jackson?
Contrary to popular belief, Brooke never actually dated the King of Pop — but they were besties. Which is why Brooke felt betrayed when Michael Jackson publicly claimed they were in fact, dating.
However, Brooke recognized, per USA Today, that Michael always "wanted me to feel celebrated." She gave a eulogy at Michael's funeral.
Brooke ended up bonding with her future second husband, Chris Henchy, when her dog Darla wondered off set in 1999 when Brooke was filming Suddenly Susan.
Per Us Weekly, Brooke and Chris connected right away when he rescued Darla. Although she was still a bit hesitant to date at the time, given her recent divorce from Andre, Brooke realized there was something special in Chris, writing in her memoir, Down Came the Rain: My Journey Through Postpartum Depression that "I left without even knowing his full name, but he made such a strong impression that I called up a friend and told her I had found a guy."
It was a happily ever after for Brooke and Chris, who tied the knot in 2001, and the couple have two daughters, Rowan and Grier.
You can stream Pretty Baby: Brooke Shields now on Hulu.