Who is Lori Harvey dating right now? Lori Harvey and this 'Snowfall' actor just went Instagram official.
For some particular reason, social media has become obsessed with Lori Harvey's dating life. The young model and socialite has dated what many would consider some of Hollywood's most eligible Black men — from Michael B. Jordan to Memphis Depay.
The allure the young model exudes has left many young women wanting to learn her ways and many men either lusting after her or throwing shade for her game. That said, Lori is Queen of the saying, "on to the next one" — and it appears that she is now dating an actor from FX's Snowfall.
So, who is the lucky gentleman that Lori Harvey is dating? Get comfortable as we serve up the tea.
Lori Harvey and actor Damson Idris are now Instagram official.
It's safe to say Lori is the female Thanos of dating. Miss ma'am simply collects all the fine, eligible Black men like infinity stones.
In the early hours of Friday, January 13, 2023, Damson Idris confirmed what many fans already knew — that he and Lori are an item.
In a few snapshots on Instagram Stories, Damson uploaded two photos: one of him and Lori embracing one another romantically with text reading, "Happy Birthday Nunu," since Lori celebrates her birthday on January 13.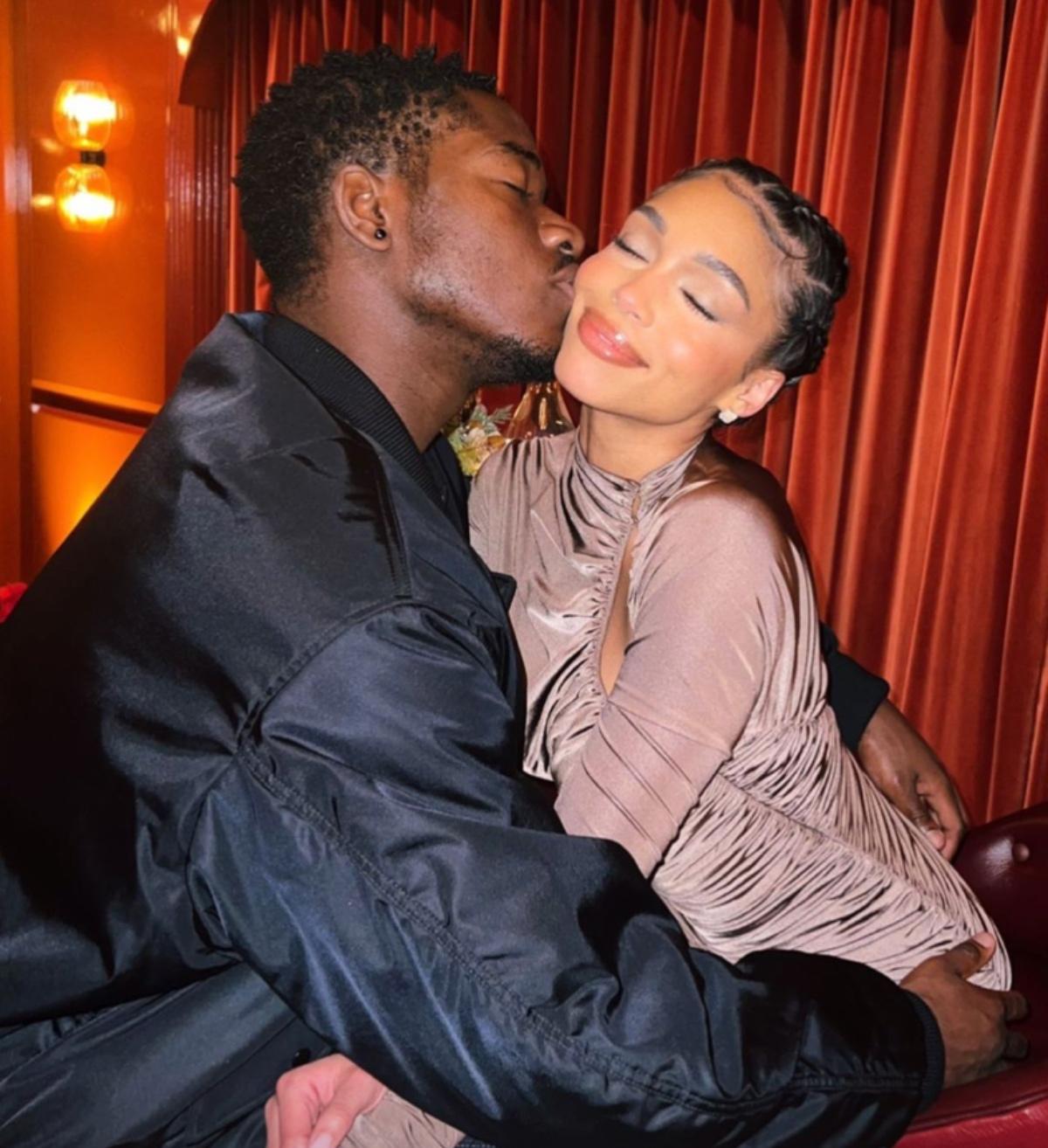 The next shot shows the model holding up thousands of dollars to her ears in what appears to be the set on Snowfall — given a sign in the background that reads "The Plug."
For folks that have been keeping up with Lori's dating adventures, this new development follows both Damson and Lori being spotted together on a dinner date in December 2022.
Interestingly, this romance is Lori's first public relationship since she and Creed sex symbol Michael "Bae" Jordan ended their romance in June 2022.
Many hearts have been broken at the news of Damson and Lori's romance.
It's no secret that Damson is extremely easy on the eyes. Pair Damson's good looks with his British accent and folks simply melt.
So, once Damson announced that Lori is his lady, social media users had plenty of opinions to share — from women threatening to give Lori a piece of their mind if she breaks his heart to men cautioning Damson not to expect a forever romance.
"I'm not jealous of anyone, but Lori sure does inspire me," one Twitter user shared.
"I might sound like a hater, but I'm totally against Lori Harvey and Damson Idris," another user shared.
Interestingly enough, Michael B. Jordan has also caught a few strays with jokes on Twitter. After all, some social media users pointed out that Damson and Michael were seemingly friends.
Whether you like it or not, Lori Harvey isn't doing anything wrong.
Folks have become far too used to women not playing the field and limiting their options, while men have unapologetically done so with ease. The only way to find your perfect match is to date around, which Lori is doing quite successfully.
It seems as if some men are bothered by the fact that Lori has dated many high-profile men and have given her distasteful labels. However, who Lori decides to spend her time with is her business.
Steve Harvey, Lori's stepfather, wrote the book Act Like a Lady, Think Like a Man. But based on Lori's dating history, one can argue that the 26-year-old may be the true author of the book.
We've never seen a woman have her way with eligible, wealthy men and come out of every relationship seemingly unscathed. Folks can learn a lot by Lori's methods.
Congratulations to Damson and Lori on their coupledom!