In case you've been living under a rock, Brooklyn Nets superstar Kyrie Irving has found himself in hot water after promoting an antisemitic film on social media. The 30-year-old athlete initially remained unapologetic and refused to confirm he held no antisemitic beliefs, which forced the NBA team to take action and suspend Kyrie for at least five games.
As the point guard endures yet another challenging basketball season, many NBA fans are curious to know more about what exactly he did that caused his relationship with NBA and Nike to a halt. Stick around as we investigate his suspension from the Brooklyn Nets.
What did Kyrie Irving do?
OK, the question should really be, "What hasn't Kyrie Irving done?" Nevertheless, we're here to address his latest antics in which he deliberately promoted an antisemitic film in a since-deleted tweet. According to Rolling Stone, the movie draws from the 2015 book Hebrews to Negroes, which pushes countless antisemitic tropes.
The film incorrectly argues that Jewish people control the media and banking, that they are responsible for slavery and anti-Black racism, and so on, drawing on fabricated quotes that have been a staple of antisemitic writings for decades.
On Oct. 28, the Brooklyn Nets and team owner Joe Tsai issued statements condemning Kyrie's actions.
"I'm disappointed that Kyrie appears to support a film based on a book full of anti-Semitic disinformation," Joe stated on Twitter. "I want to sit down and make sure he understands this is hurtful to all of us, and as a man of faith, it is wrong to promote hate based on race, ethnicity or religion."
As for the Nets, the organization stated they "strongly condemn and have no tolerance for the promotion of any form of hate speech." The team added, "We believe that in these situations, our first action must be open, honest dialogue. We thank those, including the ADL (Anti-Defamation League), who have been supportive during this time."
The Brooklyn Nets suspended Kyrie Irving without pay.
As a result of the point guard refusing to apologize for promoting hate speech on social media, the Brooklyn Nets announced Kyrie Irving will be suspended without pay "until he satisfies a series of objective remedial measures that address the harmful impact of his conduct." The organization noted the suspension period will last for "no less than five games."
On Nov. 3, 2022, the Nets issued an official statement.
"Over the last several days, we have made repeated attempts to work with Kyrie Irving to help him understand the harm and danger of his words and actions, which began with him publicizing a film containing deeply disturbing antisemitic hate. We believed that taking the path of education in this challenging situation would be the right one and thought that we had made progress with our joint commitment to eradicating hate and intolerance."
The team added, "We were dismayed today, when given an opportunity in a media session, that Kyrie refused to unequivocally say he has no antisemitic beliefs, nor acknowledge specific hateful material in the film. This was not the first time he had the opportunity — but failed — to clarify."
"Such failure to disavow antisemitism when given a clear opportunity to do so is deeply disturbing, is against the values of our organization, and constitutes conduct detrimental to the team. Accordingly, we are of the view that he is currently unfit to be associated with the Brooklyn Nets," the organization stated.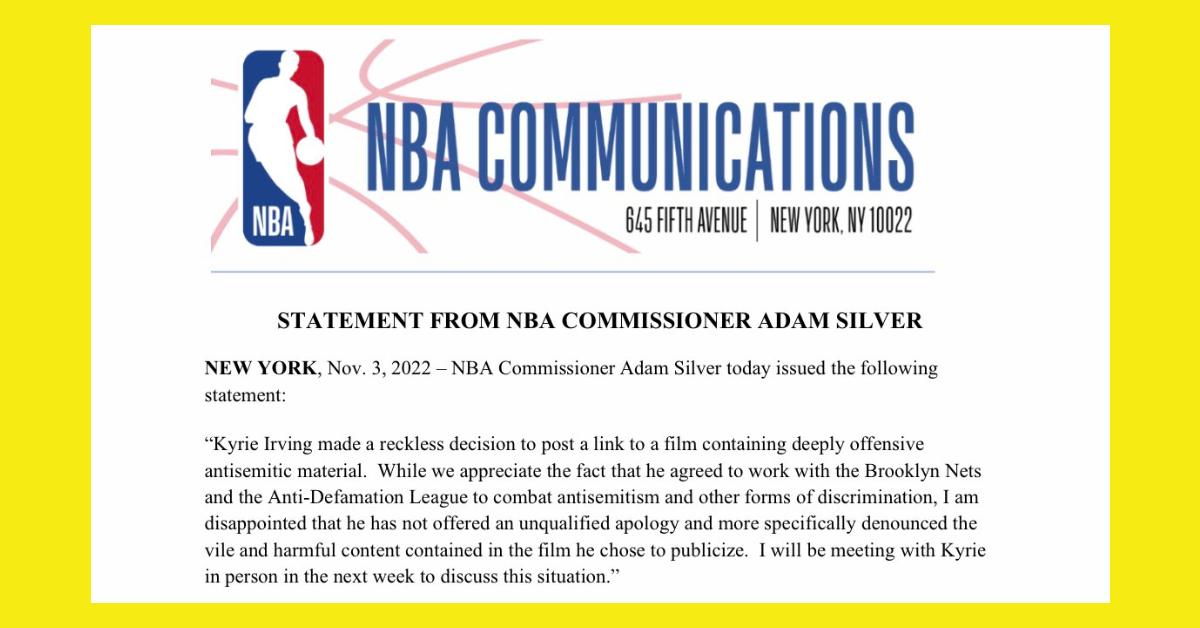 NBA commissioner Adam Silver also issued a statement, voicing that Kyrie "made a reckless decision."
The 60-year-old sports executive added that he is really "disappointed that [Kyrie] has not offered an unqualified apology and more specifically denounced the vile and harmful content contained in the film he chose to publicize." Adam noted that he will meet with Kyrie next week to discuss the situation in person.
Nike has also parted ways with Kyrie Irving.
Nike suspends its relationship with Kyrie Irving over an antisemitic post. The company parted ways with Kyrie Irving a day after the Nets suspended Irving without pay for at least five games for "publicizing the film containing deeply disturbing antisemitic hate."
The shoe giant announced Friday night (November 4, 2022) that it will halt its relationship with the Brooklyn guard, who has been suspended by the Nets for what the team called a repeated failure to "unequivocally say he has no antisemitic beliefs."
Kyrie Irving finally issued an apology to Jewish families and communities.
Just hours after being suspended, Kyrie Irving issued an apology on his Instagram.
"While doing research on YHWH, I posted a documentary that contained some false anti-Semitic statements, narratives, and language that were untrue and offensive to the Jewish race/religion, and I take full accountability and responsibly for my actions," Kyrie wrote. "I am grateful to have a big platform to share knowledge and I want to move forward by having an open dialogue to learn more and grow from this."
"To all Jewish families and Communities that are hurt and affected from my post, I am deeply sorry to have caused you pain, and I apologize. … I had no intentions to disrespect any Jewish cultural history regarding the Holocaust or perpetuate any hate," Kyrie continued. "I am learning from this unfortunate event and hope we can find understanding between us all."
Kyrie's apology has been considered a step in the right direction.