Tennis Legend Andre Agassi is married to a fellow tennis player, Steffi Graf. Their kids chose a life off the court.
In light of Hulu's two-part documentary Pretty Baby: Brooke Shields — which highlights the iconic model's harrowing experiences being sexualized as a prepubescent girl — the masses are eager to know about The Blue Lagoon star's relationship history.
While Brooke Shields has been happily married to television writer Chris Henchy for over 20 years (together they share children Rowan Francis and Grier Hammond), she was previously wife to International Tennis Hall of Famer Andre Agassi.
From his kids to his relationships, let's get to know Brooke Shields's former flame.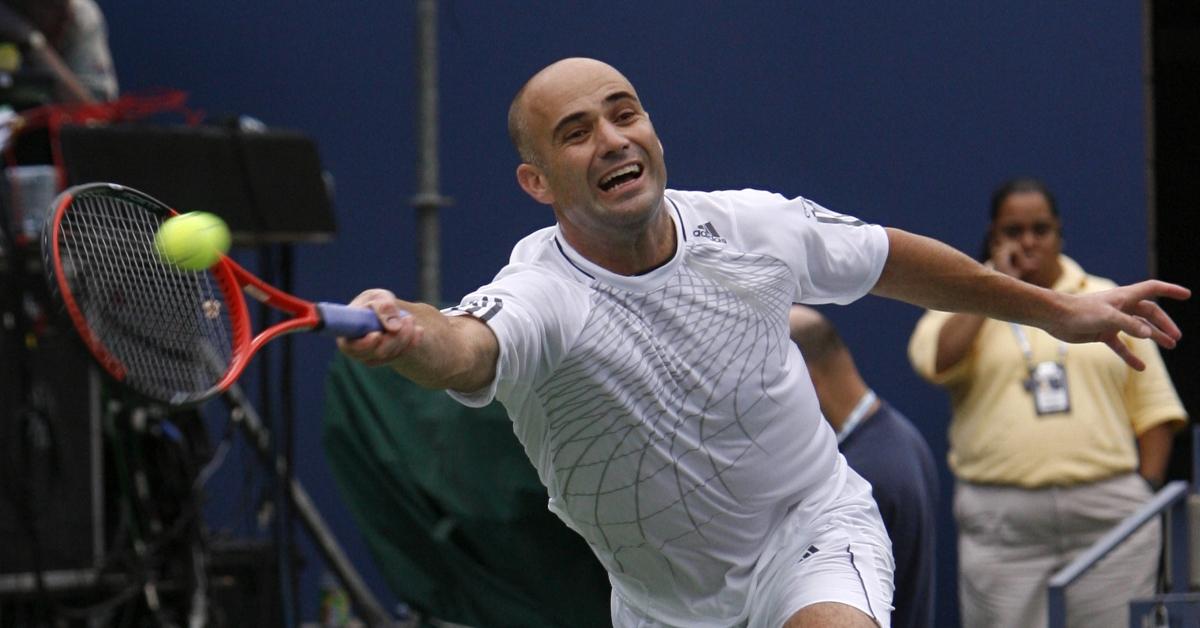 Who are Andre Agassi's kids?
Olympic gold medalist Andre Agassi — who has won each of the four significant tennis tournaments (Wimbledon, the Australian Open, the U.S. Open, and the French Open) at least once — was married to Brooke Shields from 1997 to 1999. Although they never had a family together, he brought two kids into the world with his second wife, German tennis star Steffi Graf.
By the looks of it, 21-year-old Jaden Gil and 19-year-old Jaz Elle, weren't raised to follow in their parents' footsteps. In fact, according to a 2011 interview, the Agassi kids hardly play tennis.
"Tennis? I just think we've had enough, quite honestly," Andre Agassi stated. "It's a weird sport. We don't see too many second-generation players. For us, it's about raising our children in a way we can share in their life and not always worry about their life."
However, both kids developed a passion for athletics. Jaden enjoys playing baseball and hitting home runs on the field instead of executing overhead smashes on the court.
"Jaden loves it and happens to be pretty good at it," Andre said of his son's passion. "I have no idea what he should be doing or not doing. I just take him and help him as much as I can."
And while Andre always supported his son's athletic abilities, school came first. "I put him in environments when he can learn and practice, but not ahead of his school."
Jaden went on to become a pitcher for the University of Southern California's Trojans. He appeared in 15 games (and started 10 of them) during the 2022 season, striking out 38 batters and walking 19 in 64.1 innings of work.
Andre relayed that his daughter, Jaz Elle, "plays a little bit of tennis," but her true loves are horseback riding and hip-hop dancing. Since this interview, Jaz Elle has reportedly won a few hip-hop competitions. Las Vegas dancer and choreographer Darrell Rivera even called her a "prodigy."
Unlike her legendary parents, however, Jaz Elle seemingly hasn't turned her sport into a profession. In fact, she's reportedly more interested in fashion.
Recreationally, Jaz Elle also enjoys golfing and snowboarding.
No matter where their kids' passions lie, retired tennis champs Andre Agassi and Steffi Graf "nurture their desires and interests."
Andre Agassi and ex-wife Brooke Shields never reconnected following their 1999 divorce.
According to People, Andre and the Pretty Baby star met in 1993, falling deeply in love via lengthy, butterfly-inducing faxes (yes, faxes) while Brooke was filming in South Africa. They bonded over childhood traumas involving domineering parents and stardom.
Though Brooke was head over heels for Andre, she felt controlled by him at times.
When Brooke guest-starred on Friends, she played an obsessive fan who licked Joey's (Matt LeBlanc) hand. "He said I made him look like a fool by licking Joey's fingers and he got in his car and drove all the way to Vegas," she wrote in her her 2014 memoir There Was a Little Girl: The Real Story of My Mother and Me. While in Vegas, a rage-filled Andre destroyed all his tennis trophies.
Despite the theatrics and the revelation that Andre was battling an addiction to crystal meth (not to mention his refusal to attend couples counseling), his support meant the world to Brooke.
"The whole relationship with him was so necessary," she wrote. "He gave me my first taste of freedom from my mom. He swept me away."
Additionally, she detailed that "he is a devoted person, sweet and good but he had this demon, this affliction," going on to call him "a really good human being."
Unfortunately, after their divorce, the two couldn't carry on as friends.
"I've never reconnected with him," Brooke said, according to USA Today.
"That was an important stage and relationship in my life and I don't regret it. It afforded me a lot of space from my mother and gave me this belief in my own talent. That was one of the main beautiful purposes of the marriage. But I don't know if he does that much reflection on things. People process things very, very differently and I have come to respect that."
Perhaps they were only meant to exist in each other's lives for a short period. You know what they say: Everything happens for a reason.
Pretty Baby: Brooke Shields is currently streaming on Hulu.